A Message from the Chairman:
I am pleased to announce the dates and times for the Lorain County GOP annual Lincoln Day Reception and Dinner:
DATE: Wednesday, September 8, 2021
LOCATION: New Russia Township Hall, Oberlin, 44074
KEYNOTE SPEAKERS: Congressman Bob Gibbs, Congressman Jim Jordan
VIP RECEPTION: 4:30-6pm.
SOCIAL HOUR: 5:30-6:30pm
DINNER: 6:45pm
PROGRAM: 7:45pm
This year we will commemorate the 20th anniversary of 9/11/2001. Reservation information will be posted soon on our website. We are expecting a 500-seat sell out as we had last year so please purchase your reservations quickly.
Thank you.
David G. Arredondo, Executive Chairman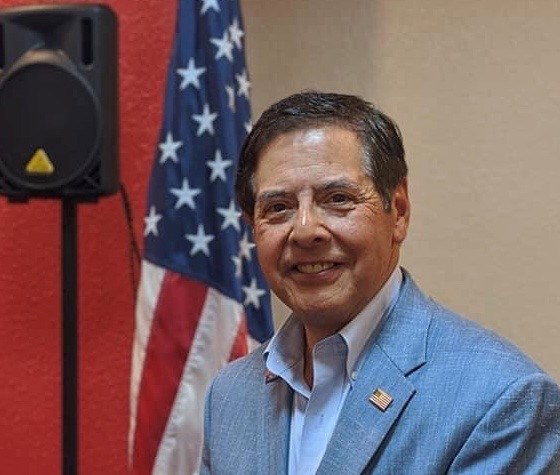 Lorain County Republican Party
1913 North Ridge Rd. E.
Lorain, OH 44055
loraincountygop.org
facebook.com/LorainCountyGOP
(440)-204-9918
"Mission Statement"
As Republicans, our mission is to recruit, support, and elect Republicans to public office at the local, state and national level. We uphold traditional American values. We believe American values are those embodied in our Declaration of Independence, and the US Constitution, particularly the Bill of Rights. We support equal opportunity, capitalism, and a limited government by and for the people.
Recent News
Friday, July 2, 2021 6:38 PM
Vermilion Area Republicans are having a 4th of July free speech rally!
---
Thursday, June 24, 2021 5:03 PM
Jam-packed week of Republican Events, kicking off with Donald Trump Rally
Donald Trump is coming to Lorain County!
The Trump rally to take place on June 26th at 7PM kicks off a flurry of Republican activity in the County over the following week. From Clubs getting together in Vermilion, Lorain-Sheffield, and North Ridgeville; to a "Meet and Greet" appearance by US Senate Candidate Josh Mandel at Lorain County HQ. Here is a list of the upcoming events.
Vermilion Republican Club:
Meeting: Thursday, June 24
Time: 5:30pm
Place: Martino's International--side room
Lorain-Sheffield Areas Republican Club:
Meeting: Thursday, June 24
Time: 6pm
Quaker Steak and Lube
4900 Transportation Blvd. Sheffield, 44054
North Ridgeville Republican Club:
Meeting: Tuesday, June 29
Time: 7pm
Meet and Greet Josh Mandel, Ohio U.S. Senate Candidate:
Thursday, July 1
Time: 4:00pm
Lorain County Republican HQ.
---
Thursday, June 17, 2021 3:30 PM
Click the headline to read about the Trump rally coming to Lorain County fairgrounds on June 26th at 7:00PM.
Click this link to sign up and get tickets to the rally!
---
Wednesday, June 16, 2021 11:27 AM
All New Lorain County Young Republicans
Greg Fanning, an 18yr old Republican activist from Virginia recently relocated to our very own North Ridgeville. He has founded an all new Young Republicans organization that is looking to be more than just a social club and networking opportunity, but an effective activist organization as well. They meet the 3rd Tuesday of every month and are currently on Facebook at this link LCYR FB Page .
All Republicans ages 18-40 are encouraged to get involved, especially if you are a professional staffer or an elected official!
---
Thursday, June 10, 2021 2:57 PM
Click the link to read an article about Jim Renacci announcing that he is challenging sitting OH Governor Mike Dewine in the upcoming 2022 Ohio Gubernatorial Primary.
---
Monday, June 7, 2021 2:24 PM
Fundraiser for OH Auditor Keith Faber!
Click the link for details. The event is this Wednesday, June 9th @5:00PM.
---
Monday, June 7, 2021 2:19 PM
Link to an external article regarding the fight against big tech.
---
Sunday, April 18, 2021 4:37 PM
Click the Link to read the article about J.D. Vance considering a US Senate run.
---
Sunday, March 21, 2021 3:56 PM
Click the headline to read the story.
---
Tuesday, March 16, 2021 3:50 PM
Click the headline to read an opinion piece written by Pat Dewine.
---
Tuesday, March 2, 2021 11:48 AM
Jim Jordan Speaks at CPAC 2021!
---
Friday, February 26, 2021 9:18 PM
Press Release on Ohio Republican Party Electing Bob Paduchik Chairman:
Columbus,OH –
Today, the Ohio Republican Party State Central Committee elected Bob Paduchik Chairman of the Ohio Republican Party.
Incoming Chairman Bob Paduchik said, "It is a great honor to be elected to be the leader of the Republican Party in Ohio. For the last 35 years, I have devoted my life to carrying out conservative principals on the state and national level. As a strong ally of President Trump, I look forward to leading the party through these coming years."
Senator Portman released the following statement: "Congratulations to Bob Paduchik on being elected to Chairman of the Ohio Republican Party. Bob was campaign manager on my 2010 campaign for the U.S. Senate, and he has proven time and time again that he knows how to win campaigns in Ohio. I look forward to working with him to continue the Ohio Republican Party's successes at the ballot box in the years ahead."
Governor DeWine said, "Congratulations to Bob Paduchik, the new Chair of the Ohio Republican Party. Bob was my coordinator for Northeast Ohio during my 1994 campaign for the United States Senate, and then he worked as a District Representative for my Senate office for several years. He has long been a trusted advisor and friend.
No one has been a better campaign manger over the last few decades than Bob, and I have the utmost confidence that he will be successful leading our Ohio Republican Party."
Lieutenant Governor Husted echoed Governor DeWine's statement saying, "Bob Paduchik is a proven winner and understands how to unite in victory the many voices within the Republican Party, now and for the future," said Ohio Lt. Governor Jon Husted.
Secretary of State Frank LaRose said, "Congratulations Chairman Paduchik! I've known you for a long time, and there is not a better person to continue the tradition of excellence as chair of the Ohio Republican Party. Your experience and skill as a leader will complement the strength of our party's values & ideas to build our Republican majority. I look forward to working with you as we enter a new election cycle."
Ohio Attorney General Dave Yost released the following statement: "Congratulations to my friend Bob Paduchik on being elected chairman of the Ohio Republican Party. Bob is a battle-tested leader with unparalleled experience running – and winning – competitive campaigns in Ohio. I am looking forward to working alongside Bob to achieve another round of historic victories across the state in 2022 and beyond."
State Treasurer Robert Sprague said, "I'm thrilled to congratulate and welcome my friend Bob Paduchik as the next chairman of the Ohio Republican Party. A leader and a fighter, Bob will be a steady hand in guiding our candidates to victory in 2022 and ensuring Ohio's conservative voice is as strong as it's ever been." — Ohio Treasurer Robert Sprague"
---
Wednesday, February 10, 2021 8:46 PM
Click the link to read about Josh Mandel's announcement to seek Rob Portman's Senate seat.
---
Monday, February 1, 2021 7:42 PM
New relief for the citizens of Lorain County!
LORAIN COUNTY DEPT. OF JOBS & FAMILY SERVICES

TIM CARRION, DIRECTOR

42485 NORTH RIDGE ROAD – ELYRIA OH 44035-1057
440-323-5726/440-244-4150 FAX: 440-323-3422

January 29, 2021

Lorain County Jobs and Family Services (JFS) is excited to partner with the Lorain County Board of Commissioners to provide emergency rental and utilities assistance to local families in need.
The Emergency Rental Assistance Program (ERA) will provide support for rent and rent in arrears as well as utilities payments to include electric, gas, water, sewer and trash removal.
ELIGIBILITY:
An "eligible household" is defined as a renter household in which at least one or more individuals meets the following criteria:
1. Qualifies for unemployment or has experienced a reduction in household income,
incurred significant costs or experienced a financial hardship due to COVID-19:(awaiting
clarification from the funder)
2. Demonstrates a risk of experiencing homelessness or housing instability, and
3. Has a household income at or below 80 percent of the area median.
The tentative roll out date for the ERA Program is February 8, 2021. You can contact us via email at RentalAssistance@JFS.Ohio.Gov or phone at 440-284-4423. Please leave your name and phone number and we will reach out after 2/8/21 to collect the details needed to qualify a household for assistance.
Also look for updates on our website, www.LCJFS.com and on the Lorain County Job and Family Services Facebook Page.

COMMISSIONERS
---
Thursday, January 28, 2021 11:32 AM
Michelle Hung calls out false reporting by the Chronicle-Telegram.
This is the 01/27/2021 Commissioners meeting. Fast forward to 34:00 minutes in to hear Michelle Hung refute a lie from the Chronicle-Telegram. The paper didn't even bother to fact-check their own reporting.
---
Tuesday, January 26, 2021 3:04 PM
Click the headline to read the op-ed by Congressman Bob Gibbs!
---
Monday, January 25, 2021 2:58 PM
Statement from ORP Chairman Jane Timken Regarding Senator Rob Portman's Decision to Not Pursue Re-Election in 2022
Columbus,OH – Ohio Republican Party Chairman Jane Timken released the following statement regarding Portman's announcement:
"Rob Portman is a statesman whose service to our country and our party over nearly three decades has been invaluable. His leadership and temperament will be missed in the halls of the U.S. Senate and amongst Ohio Republicans. While we have huge shoes to fill in the U.S. Senate, I thank Senator Portman for his service and hope all Ohioans will join me in recognizing his accomplishments that furthered our great state."
---
Friday, January 15, 2021 12:54 PM
A statement from ORP Chairman Jane Timkin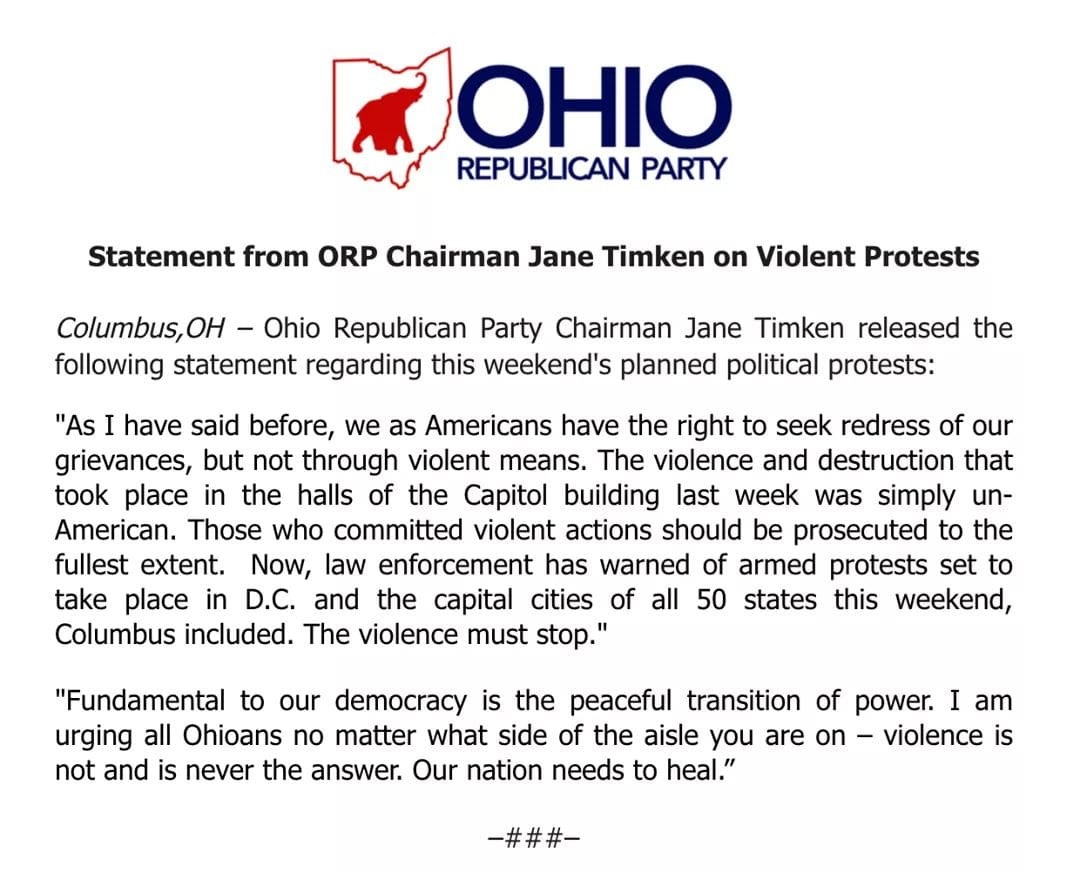 ---
Tuesday, January 12, 2021 3:39 PM
Click the headline to read the article on theblaze.com.
---
Friday, January 1, 2021 2:58 PM
After objecting in the past, they are now calling objections a "coup". Read this story from The Federalist website by clicking the headline.
---
Tuesday, December 29, 2020 10:02 AM
Click the headline to read the story!
---
Wednesday, December 23, 2020 3:20 PM
President Trump speaks about the 2020 election.
Click here to watch the speech!
---
Tuesday, December 22, 2020 10:00 PM
Special Message from President Donald Trump
---
Wednesday, December 16, 2020 7:00 PM
Click the headline the read the story!
---
Thursday, December 10, 2020 2:44 PM
Read the OH filing and the Texas lawsuit for yourselves!
Many local Republicans have had questions, confusion, and concern regarding Ohio Attorney General Dave Yost's recent Amicus brief to the Supreme Court of the United States in regards to the recent Texas Lawsuit.
AG Yost's filing can be read here: OH AG Amicus brief filing
The Texas lawsuit, joined by 17 other states, can be read here: Texas Lawsuit
Ohio has has asked the court to rule but is supporting neither party. Read this for yourselves and then give the AG's office an email message. You can drop them a line at the following email address provided below. Let them know if you agree or disagree with our Attorney General's decision on this matter. Let your voice be heard directly.
Corey.Jordan@Ohioattorneygeneral.gov
---
Friday, December 4, 2020 3:26 PM
So much for "no evidence" of fraud or cheating in the state of Georgia. The headline on this story is a link to the Government Oversight section of the hearing which took place on December 3rd in the morning hours.
Here is another link.
This link takes you to the GA Senate Judiciary committee portion of the hearings held in the afternoon hours of December 3rd.
All videos posted regarding all State Legislature hearings on voter fraud have been sourced directly to their respective state government websites to ensure you, the reader, aren't watching edited or tampered footage. This and other news posts on this site are recordings of the real hearings, where real evidence of fraud was presented.
---
Thursday, December 3, 2020 2:50 PM
The mainstream media will not cover or comment on the information presented to the Michigan State Legislature. So we have directly linked the video of the Trump legal team's presentation and several witnesses testifying. It is posted on the State of Michigan Legislature's website.
Side note: You would expect to find this video cataloged as "elections", but instead it was buried on the state legislature website under "oversight" videos. The powers that be in Michigan would prefer that you not see this tape. All the more reason for you to watch for yourself and see what really went on in the State of Michigan.
---
Monday, November 30, 2020 3:02 PM
You may have heard there is no evidence of voter fraud in PA. Well here is the recording of the public hearing as posted by the PA State Senate. Listen to the evidence and arguments presented for yourself, then you be the judge as to whether the news media is lying to you.
---
Monday, November 16, 2020 6:26 PM
Help Republicans keep control of the US Senate!
With the President and his legal team continuing to fight for every legal ballot to be counted, we want to provide him and the party with our political support. Ohio Republican Party field staff are arriving in Georgia to help with the effort to maintain a Republican majority in the Senate and while many may not be able to physically travel to Georgia, there are many other volunteer opportunities to support Kelly Loeffler and David Perdue.
To get involved in the Georgia Senate races, volunteers should fill out the form below and we will get them more information on how to contribute in the manner in which they indicated on the form.
---
Wednesday, November 4, 2020 6:16 PM
Republicans win BIG in Lorain County!
Despite the national election result still being determined, Lorain County helped deliver a BIG win for President Trump in Ohio!
Both David Moore and Michelle Hung won their respective races for County Commissioner. WE DID IT! We will have real Republican leadership in Lorain County for the first time in over 100 years!
Congratulations to Mike Doran on winning the County Recorder race, providing a much needed change to the office.
Great job to all of the candidates, campaign staffers, and volunteers. Without YOUR efforts, none of this would have been possible. We can all now look forward to a county government that works for the people, and not just themselves.
Lorain County Election Results
---
Friday, October 23, 2020 10:49 AM
We need Poll observers!
Two weeks to go, and we need your help one last time!
The Lorain County Republican Party will be appointing volunteers as official Election Day Observers who function to officially monitor activities at designated polling locations on Election Day, November 3, between the hours of 630am and 730pm.
Currently we have about 75 polling locations that are set up for Lorain County, we have identified at least half that as a party we would like to have observers at to make sure, with all the issues with mail in ballots and in person voting that we feel comfortable the election is fair. I ask that you pass this message on to as many people as you can. All of our candidates have spent countless hours and dollars to get us to this point. We cannot let them down on election day by not supporting them as poll observers. This is one of the most important jobs in the election cycle. In the past, we have seen issues with intimidation, assisting voters to vote democrat or even illiterate poll workers. Our job is to see these actions and notify the BOE to assist in correcting.
Currently we have 12 volunteers. This will allow up to observe only 1 in 6 locations.
Forcing us to choose where we are. I know we are exhausted and have done our part, I just ask for a few more hours and then we can enjoy 4 years of happiness.
Please help us fill this most important role. Let myself of your area chairs know you can help or send us names of people you can get to help out.
Sincerely
Andrew Mcdonnell
Lorain County Republican Lead Observer.
---
Saturday, October 17, 2020 7:05 PM
Democrats have failed Lorain County!
---
Thursday, October 15, 2020 7:25 PM
Remember to vote early!
---
Monday, October 12, 2020 11:15 AM
Letter from the OSBA Chairman regardinging 2020 OSC judicial candidates.
2020 Supreme Court of Ohio Candidate Ratings
Fellow Members of the Ohio State Bar Association,
I am pleased to inform you that the bipartisan OSBA Commission on Judicial Candidates has completed its evaluation of the four candidates running for the Supreme Court of Ohio for the Nov. 3, 2020 General Election. As members of the OSBA, you are receiving this information prior to the official release to the media and the general public later today.
Operating under the process adopted by the Board of Governors, Commission members scored each candidate according to the following criteria: legal knowledge and ability, professional competence, judicial temperament, integrity and diligence, personal responsibility, and public and community service.
Out of 30 possible points, candidates receiving a total composite score of 25 or higher, based upon their average scores in each category, earned a rating of "Highly Recommended." A score between 19 and 24 would garner a rating of "Recommended." And those earning 18 or less, would be deemed "Qualified by Statute." Each candidate was scored on an individual basis, without regard to whom they were facing on the November ballot.
The ratings and scores are as follows:
Judge Jennifer Brunner was rated Recommended, with a score of 20. - Democrat

Justice Judith L. French was rated Highly Recommended, with a score of 27. - Republican

Justice Sharon L. Kennedy was rated Recommended, with a score of 23. - Republican

Judge John P. O'Donnell was rated Recommended, with a score of 24. - Democrat
These scores were informed by a thorough evaluation of the candidates by the Commission, including a written questionnaire and resume, as well as a review of each candidate's decisions, writings, publications, letters of reference, docket reports, financial disclosure statements and other public records. Lawyers, judges and other citizens familiar with each candidate's reputation, past performance and qualifications were consulted as part of the vetting. And finally, each candidate was interviewed individually by the Commission last week.
Though judges make decisions that affect the everyday lives of Ohioans, voters consistently report that they do not know enough about the candidates to make informed decisions. I'd like to thank the candidates, the members of the Commission, and the OSBA for their efforts to provide context and good information to members of the bar, as well as the public, and their commitment to promoting a well-informed electorate this November.
Sincerely,
Martin E. Mohler
Chairman, OSBA Commission on Judicial Candidates
---
Thursday, October 8, 2020 1:57 PM
WE NEED NEW COUNTY COMMISSIONERS!
The 911 outages are dangerous, pathetic, and totally the result of incompetence by democrats in the County Commissioner role. WE DESERVE BETTER! Vote for BOTH Michelle Hung and David Moore to protect your family and ensure 911 does NOT go down again!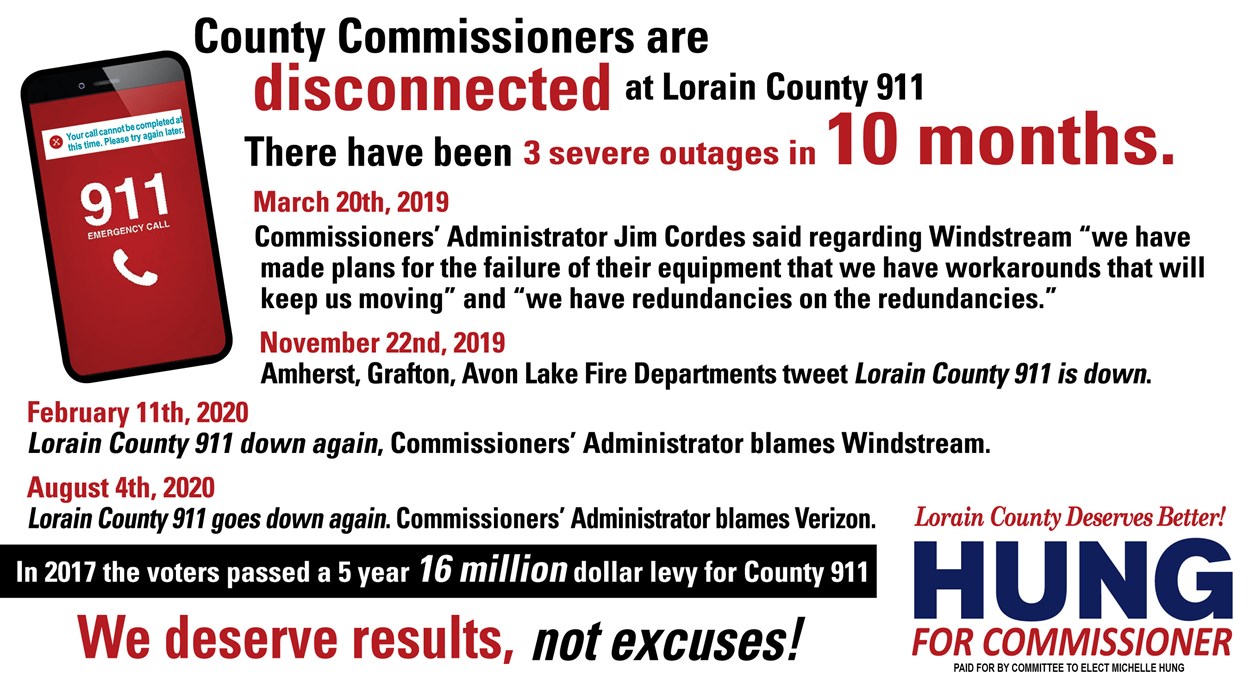 ---
Monday, October 5, 2020 1:54 PM
Click to read another great opinion from the brilliant Heather MacDonald.
---
Friday, September 25, 2020 7:13 PM
President Trump to select Judge Barrett to replace the late Justice Ginsburg.
---
Wednesday, September 23, 2020 7:05 PM
President Trump's Accomplishments
The next time someone asks "why would you vote for Trump?", show them this list of President Trump's accomplishments.
---
Sunday, September 20, 2020 11:04 AM
The President and the Senate must act in a timely manner to fill the Ginsburg vacancy!
---
Thursday, September 10, 2020 1:43 PM
Another endorsement for Gayle Manning! Vote for Gayle Manning! State Rep. OH's 55th district.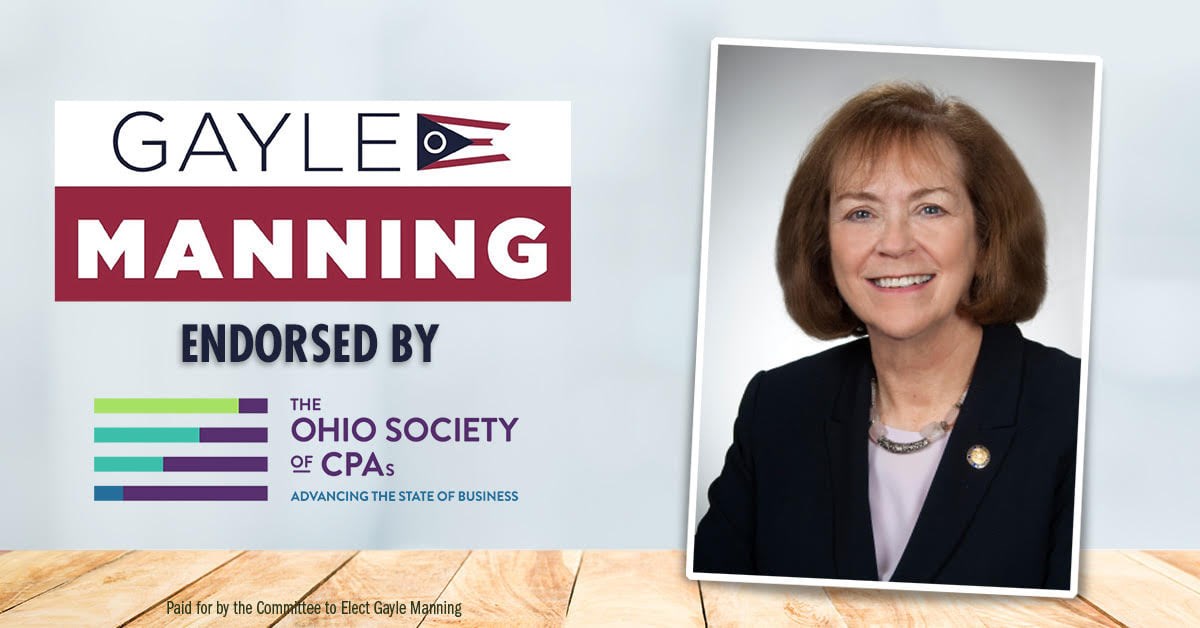 ---
Tuesday, September 8, 2020 1:36 PM
The brilliant Molly Hemingway is at it again! Read this great piece to understand how the "impeachment" came about.
---
Sunday, August 30, 2020 4:48 PM
---
Thursday, August 20, 2020 3:18 PM
---
Monday, August 17, 2020 2:18 PM
---
Saturday, August 15, 2020 2:26 PM
Click below to see the the Lorain County Strip ticket with all of our 2020 candidates!
Republican Party General Election Candidates 2020

---
Wednesday, August 12, 2020 9:30 PM
Today was the grand opening ceremony of Trump HQ in Lorain County. Party Chairman, David Arredondo, spoke to a friendly crowd of enthusiastic Trump supporters. Click the link to read the full story.
---
Tuesday, August 11, 2020 1:21 PM
New literature piece from Justice Kennedy!
Justice Kennedy For Ohio Supreme Court!
---
Sunday, August 9, 2020 3:35 PM
Elect Michelle Hung and David Moore!
We can't let Democrats win the County Commissioner races this November. We need to seize on this opportunity to have TWO Republican County Commissioners in Lorain County. It has been some 80 years since we've had this opportunity, we can't afford to waste it, not in the times we are facing.
Click the link to learn more about why we need to elect TWO new County Commissioners!
---
Friday, August 7, 2020 1:28 PM
HQ Grand Opening!
Wednesday August 12th, 2020 at 11:00AM, we will be having a Grand Opening ceremony at LCRP Headquarters.
Some local candidates, including Rob Weber (US House OHD9) will be present for the Grand Opening ceremony of Lorain County Trump HQ. The Trump campaign will be using our party headquarters location as the base of operations for the Trump 2020 reelection campaign in Lorain County. Trump Campaign Regional Director Jared Borg will be the keynote speaker. The address is:
1913 North Ridge Rd.
Elyria, OH 44055.
We look forward to seeing you all there!
---
Tuesday, August 4, 2020 1:24 PM
Election workers needed!
---
Tuesday, August 4, 2020 1:14 PM
---
Monday, July 27, 2020 2:34 PM
Recent cases of voter fraud prove President Trump is right to be suspicious.
---
Wednesday, July 22, 2020 7:18 PM
The Final Countdown!
This Sunday marks 100 days until the November 3rd Election.
That means:
100 days until we choose JOBS over mobs.
100 days until we choose to DEFEND THE POLICE over defund the police.
100 days until we choose AMERICA FIRST over China first.
100 days until we choose to KEEP AMERICA GREAT over giving up our country to AOC and the radical left.
100 days until we choose to re-elect PRESIDENT DONALD J. TRUMP over Basement Biden.
This weekend, we will have several canvassing groups knocking doors in Lorain County! President Trump is counting on YOU!
We all know what is at stake in this election! We MUST Re-Elect President Trump!
Can we count on you to help us this weekend to connect with voters and let them know how high the stakes are?
We are giving away TRUMP SWAG - hats, mugs, t-shirts, bumper stickers, and more - to volunteers who help us reach our goals!
Can we count on you this weekend?
Interested in joining? Contact Trump Campaign Field Organizer Charles Lovett (440)- 396-6774 or clovett@ohiogop.org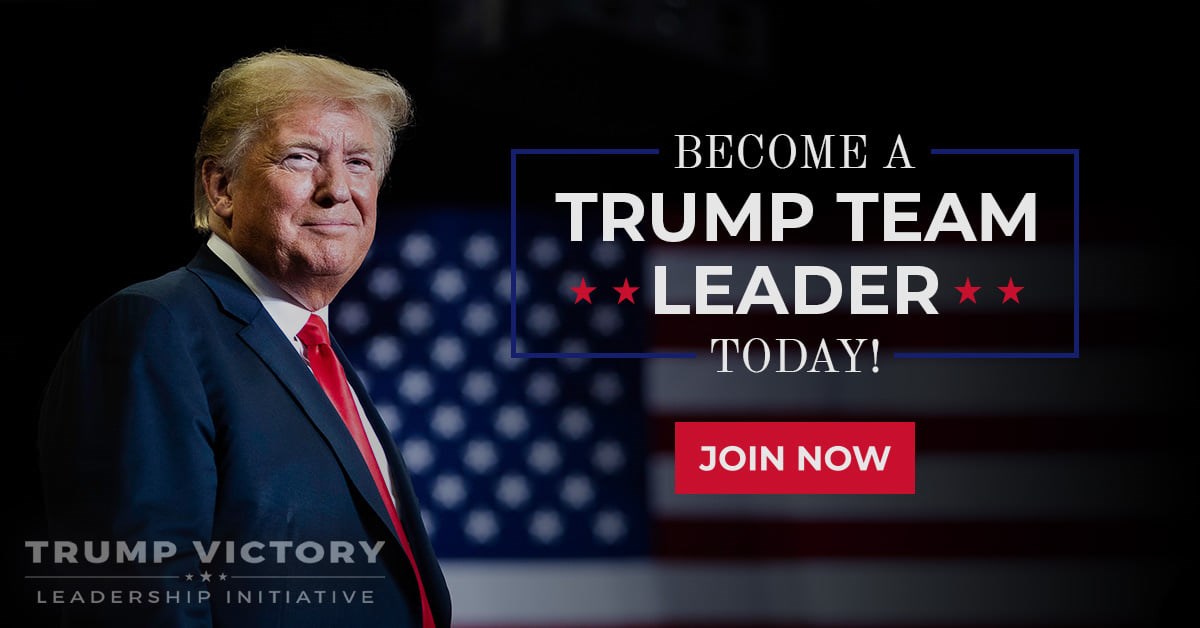 ---
Tuesday, July 21, 2020 9:01 PM
Statement from ORP Chairman Jane Timken
---
Sunday, July 19, 2020 1:42 PM
David J Moore and Michelle Hung are having a fundraiser at Matus Winery on Thursday, August 6th.
---
Monday, July 13, 2020 1:28 PM
President Trump's accomplishments, caution, the list is long.
The next time your democrat friends ask you about President Trump, show them this!
Click here for a full list of President Trump's accomplishments
---
Monday, July 13, 2020 1:01 PM
County Recorder Candidate Mike Doran Upcoming Fundraiser
Lorain County Recorder Candidate Mike Doran is having a fundraiser Wednesday, July 29th 5:30pm at the Red Tail Golf Club in Avon, Ohio.
Click the link for details!
---
Friday, July 10, 2020 6:16 PM
Folks, this is the America of AOC and Bernie Sanders that awaits us if Biden wins!
He is not moving to the middle and instead going extreme Left
Please read and share.
---
Thursday, July 9, 2020 12:52 PM
Click link to view.
---
Wednesday, July 8, 2020 2:43 PM
A Message from LCRP Executive Committee Chairman David G. Arredondo.
Click the link to read the full statement.
---
Tuesday, July 7, 2020 8:24 PM
Violence and shootings erupt across the nation, with many of the victims being children.
---
Monday, July 6, 2020 8:32 PM
We agree with Newt!
---
Saturday, July 4, 2020 8:19 PM
Arguably President Trump's best speech ever, may also be his most important speech ever.
---
Friday, June 19, 2020 10:56 AM
LCRP Elects new Executive Committee Chairman
Former Lorain County Republican Party Executive Committee Vice Chairman David Arredondo was elected as the new Chairman of the Lorain County Republican Party Executive Committee on May 24th, 2020. Kitpton Mayor Robert (Bob) Meilander and David Arredondo ended the first vote in a tie. David Arredondo was able come out ahead in the second round, and is now committed to leading the Republican Party into a better and brighter future here in Lorain County. Now, under new leadership, the people of Lorain County have a lot to look forward to from their local Republican Party.