Events
Thursday, October 6, 2022
5:00 PM to 7:00 PM
15674 Gore Orphanage Rd. Wakeman, OH 44889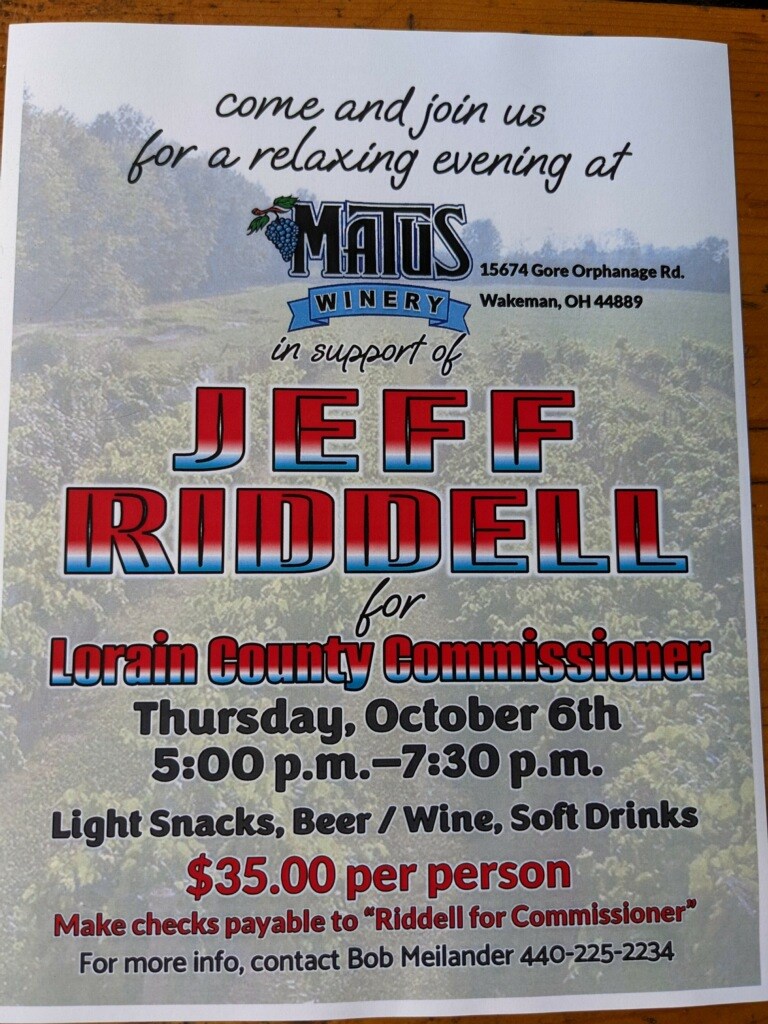 ---
Thursday, October 6, 2022
5:00 PM to 7:30 PM
15674 Gore Orphanage Rd. Wakeman, OH 44889
PLEASE RSVP TO BOB MEILANDER 440-225-2234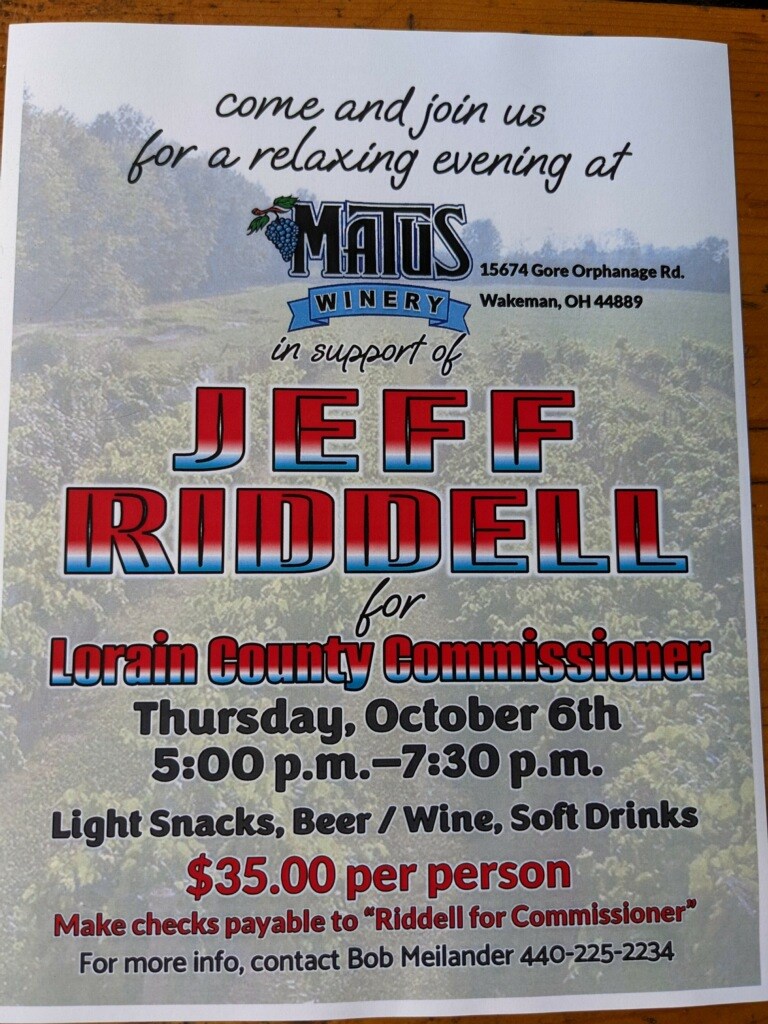 ---
Saturday, October 8, 2022
8:30 AM to 10:00 AM
5300 Baumhart Rd Lorain, OH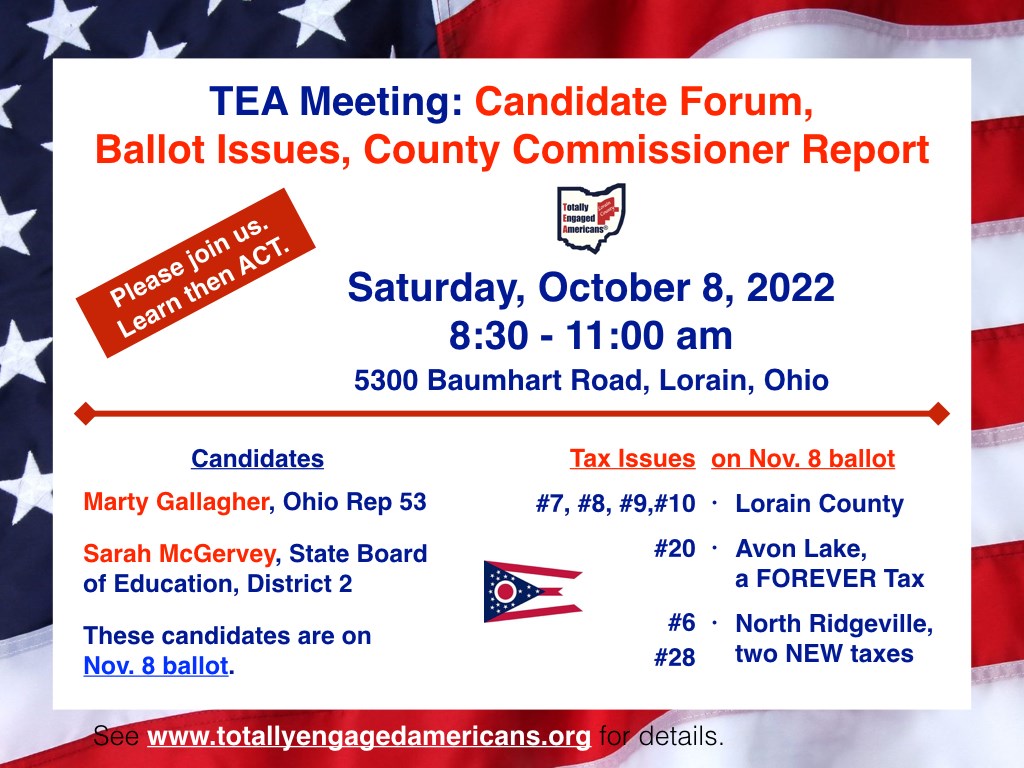 ---
Thursday, October 13, 2022
5:00 PM to 8:00 PM
1783 Moore Road Avon, OH 44011

Knights of Columbus Hall – 1783 Moore Road - Avon


5:00 PM – Social Hour 6:00 Meeting
Members Free Guests $5
A REPRESENTATIVE FROM THE OHIO SECRETARY OF STATE'S OFFICE WILL BE AT OUR MEETING TO EXPLAIN THE REDISTRICTING PROCEDURES.

HOW IS IT DONE?
WHO DOES IT?
WHAT ARE THE RULES FOR REDISTRICTING?

WE'RE ALL CONCERNED ABOUT THE EDUCATION OF OUR YOUNG PEOPLE - PLEASE COME TO HEAR CLUB MEMBER LIZ GRIFFITHS DISCUSS THE CHARTER SCHOOL COMING TO NORTHERN OHIO – WITH THE OVERSIGHT OF HILLSDALE COLLEGE.

MARILYN JACOBIK, FROM THE LORAIN COUNTY BOARD OF ELECTIONS, WILL EXPLAIN THE USE OF BLACK BOXES IN LORAIN COUNTY'S ELECTIONS; ABSENTEE BALLOT PROTOCOLS; AND ANSWERS TO OTHER QUESTIONS YOU MAY HAVE.
---
Wednesday, October 19, 2022
12:45 PM to 2:00 PM
19215 Hilliard Blvd Rocky RIver, OH 44116
Hear from Ohio's First and Second Ladies, Fran DeWine and Tina Husted as they travel the state to promote the Our Ohio Families Tour!
---
Thursday, October 20, 2022 6:30 PM

25742 Royalton Road Columbia Station, OH 44028
We welcome all Republicans and others interested in pursuing freedom through Republican governance. Anyone wishing more information can reach Committee Chairman Jim Dowdell at: jwdowdell@frontier.com.
---
Tuesday, October 25, 2022 7:00 PM

6805 Lear-Nagle Rd. North Ridgeville, OH 44039
North Ridgeville Republican Club Meeting at:

VFW Post 9871
6805 Lear-Nagle Rd.
North Ridgeville, OH 44039
@7PM
---
Wednesday, October 26, 2022 6:00 PM

1913 North Ridge Rd. E Lorain, OH 44055
Monthly Young Republican PAC meeting.
Open to all Republicans.
---
Wednesday, October 26, 2022
6:30 PM to 7:30 PM
5680 Liberty Ave. Vermilion, OH 44089
BEAUTIFUL HARVEST TIME!!!
WE HAVE PUT OUR SHOVELS IN THE GROUND, TILLED THE SOIL, PLANTED SEEDS, WATERED, HOPED FOR WARM SUNSHINE, AND NOW.........THE HARVEST!!!
N0W, WE BEGIN THE NEXT CYCLE AND WORK TOWARDS A MORE ABUNDANT HARVEST IN 2023!
OUR MEETING ON OCTOBER 26TH WILL FOCUS ON THE ELECTION OF OFFICERS, COLLECTING DUES ($20.00), THE NOVEMBER 8TH ELECTION, ONGOING PROJECTS, WE MIGHT HAVE A CANDIDATE--OR TWO--STOP IN AND SHARE A FEW WORDS WITH US,
AND.....
***OUR GUEST SPEAKER!***
OUR GUST SPEAKER WILL BE JUDGE T. JANAS (RETIRED), WHO SERVED AS A FEDERAL IMMIGRATION JUDGE FOR SEVERAL YEARS. HE WILL SPEAK TO THE MANY CHALLENGES OF IMMIGRATION, HIGHLIGHTED BY HIS EXPERIENCE AND PERSONAL STORIES. IT'S ALWAYS A HUGE PLUS TO HEAR FROM SOMEONE WHO 'HAS BEEN THERE'.
LET'S SPREAD THE WORD AND CONSERVATIVE VALUES THROUGHOUT OUR VERMILION AREA!
MEETING INFORMATION:
DATE: WEDNESDAY, OCTOBER 26TH
TIME: 6:30PM
LOCATION: RITTER PUBLIC LIBRARY
PLEASE, MARK YOUR CALENDAR!
THANK YOU,
JEAN
"DO WHAT YOU CAN, WITH WHAT YOU HAVE, WHERE YOU ARE."
THEODORE ROOSEVELT
---
Saturday, October 29, 2022
8:30 AM to 9:30 AM
2170 North Ridge Road Elyria, OH 44035
8:30am, George's Family Restaurant
Over the past month I've been on the road in Bolivia, California and Peru so now is our October monthly meeting.
Our topic is the discussion of the use of Latinx instead of Latin/a or Hispanic.